Bars & Restaurants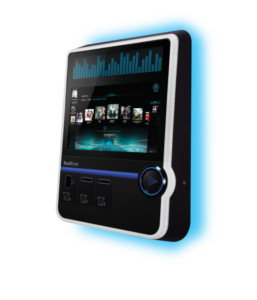 Diltz has a vast range of products and services for any bar or restaurant.
Jukeboxes
Jukeboxes have long been a staple of bars and restaurants for decades.  The digital jukebox has transformed the traditional CD and record jukebox into a seemingly endless supply of digital songs.  The digital jukebox industry is led by Touchtunes and AMI.  Most of our jukebox installations include a speaker package provided by Diltz, but we have the ability to hook into existing sound systems.  Today, the majority of music played on digital jukeboxes is played by patrons playing songs from their smartphones.
ATMs
Diltz offers ATMs to our bar and restaurant customers at no charge.  ATMs increase the amount of cash in your business, increasing pull-tab (and similar) play, and can effectively lowering your credit card processing fees.  Diltz owns, maintains, and fills the ATMs.
Dart Boards
Modern technology on dartboards allows players to play both casually and league play over the internet thanks to Arachnid's Galaxy 3 dartboard.  Cameras on the dart boards allow for a live video stream of your opponent and their dartboard which has transformed the game of darts. Diltz offers travel, in-house, and remote dart leagues year round.  Remote leagues allow players to play league from any Diltz dart location without having to be present against your opponents.  In addition to leagues, Diltz is a member of both the North American Dart Organization (NADO) and the National Dart Association (NDA).  NADO is a program that rewards players of all skill levels for playing league and attending tournaments.  For more information, and specifics related to Diltz's NADO program, please visit their website NADO.net.  The NDA promotes state and national tournaments throughout America.
Pool Tables
Pool tables have long been a staple of bars and taverns for decades. Diltz owns and operates Valley pool tables of all sizes. Diltz is also a member of the VNEA and sends many players to both Indiana and Michigan state tournaments annually.
Games for both kids and kids at heart!
In addition to the above mentioned, Diltz owns and operates Golden Tee machines, pinballs, claw machines, skeeball, air hockey, bubble hockey, photobooths, pop-a-shot basketball games, bowling machines, shuffleboards, and most anything else within our industry that is pay-to-play.